The most popular modern black haired pinup girl is.
Dita gives off a mature, sexy, and feminine vibe that a lot of people have taken a liking to.
but they are many Ravon Haired Pin-ups then dita. but in this list, we'll be looking at fictional ones, but I might make on of real ones in the future.


Peter Driben.
Peter's black haired Pin-up
girls are sexy but classy at the same time
that's what draws people to his art is how he put so much detail in the
fashion department like the girl in the first picture everything match's her black dress
Goes with her curly black hair the black and red shoes go with the black dress
and the red back round and the red rose adds a nice little touch that's why I like his art.


Gil Evlgren.
Gil's pin-up girls are usually fun-loving flirty cute.
but I've notice that the black haired pinup girls are more seductive more risque caring they but he still keeps it classy.
Earl Morgan.
Earl's pinup girls look caring they just look so innocent and pretty.
that's what I like about his art it's simple but not too simple.
by the way.
who can forget miss Page?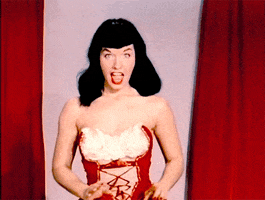 Betty Pagesexy funny flirty
is also one of the most loved black haired pinup girls
one of her acts has also been recreated by many.